Man, or rather a remarkable illustration of the worst of our species, took only 16 years to destroy half of the orangutans on the island of Borneo.
Wood, paper, mining or palm oil: The deforestation of its natural environment was only part of its drama, as many were hunted down and even prostituted.
After an orangutan was found in 178 and beheaded in mid-January 2018, a five-to-seven-year-old male orangutan was found in February, who was
executed
with about
130 air rifle
bullets.
The orangutan died after being stabbed and beaten.
70 balls were found alone in his head.
Again, a cruel murder of an organ-utan
At autopsy, at least 130 bullets were found in the head and body, 17 open wounds from sharp objects, and the chest and one hand showed bruising injuries.
The orangutan was
found severely injured by the villagers in Kutai Timur district
on
Sunday,
February 4, 2018, and was taken to a hospital in Bintang City on Monday, where he died Tuesday.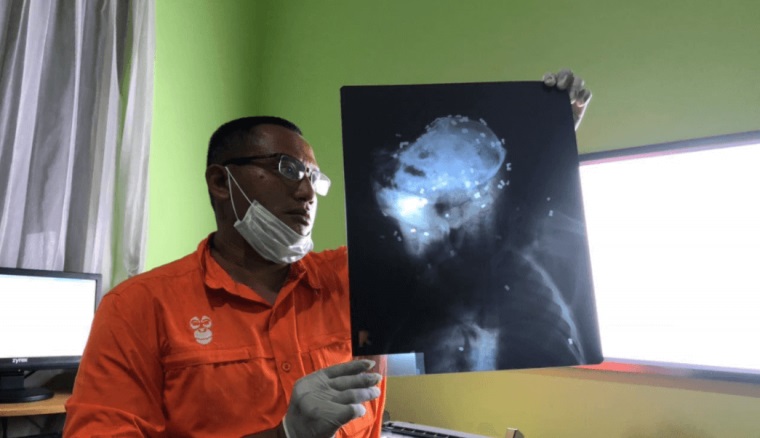 It is the second murder of this species this year.
There are already a few red-brown apes in the world and now they are even brutally shot.
Her head cut off, her hands broken, her body dotted with bullets.
"You can not imagine what's going to happen to these intelligent and fascinating monkeys.
This animal - we saved him from a wood workshop.
Just for fun, they had chained him under the generator for years.
As a result, he lost his hearing and suffers from brain damage.
It is very common in that
Kalimantan
female orangutans are being hunted.
They shave the animals and sell them to forestry workers for sex.
It's like a rape, like terrible slavery.
Remember, these monkeys have 97% of the same DNA as humans. "Kalimantan Timur (German Ostkalimantan) is an Indonesian province on the island of Borneo.
"IN ADDITION TO THE PROTECTION OF THE FORESTS, WE MUST ALSO CONCENTRATE THE CAUSES OF ORANGE UTAN KILLING.
THIS REQUESTS PUBLIC ATTENTION, DECLARATION, EFFECTIVE CRIMINAL PUNISHMENT, AND MORE STUDIES ON WHY PEOPLE KILL ORANG-UTANS, "CO-AUTHOR SERGE WICH SAYS FROM THE LIVERPOOL JOHN MOORES UNIVERSITY, IN THE
NEW STUDY
THAT FINDS THE NUMBER OF ORANG-UTANS ON BORNEO CONTINUES DRAMATICALLY SINCE.
Smuggling, beatings and drugs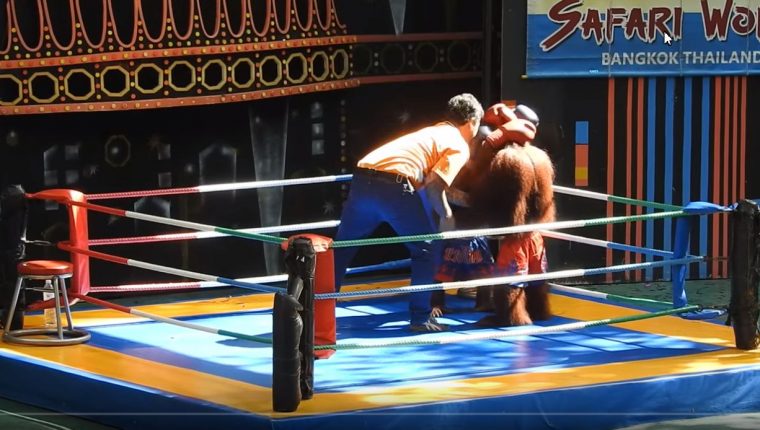 In social networks, orangutans are sold to private collectors or to unscrupulous zoos, where they are beaten or drugged to serve entertainment.
Global demand for raw materials has reduced
the number of apes
by more than 100,000 animals over the last 16 years
The conservation measures of the past 50 years have not prevented the number of orangutans in Borneo from continuing to fall dramatically.
The latest data from a
research team of 38
published by international institutions under the direction of the Max Planck Institute for Evolutionary Anthropology in Leipzig, the German Center for Integrative Biodiversity Research (iDiv) and the Liverpool John Moores University in the UK, indicate that the total number of Borneo-Orang Between 1999 and 2015 by more than 100 000 animals.
This result means, on the one hand, that Borneo originally had more orangutans than previously thought.
On the other hand, the animals disappear faster than expected.
Source:
https://netzfrauen.org/